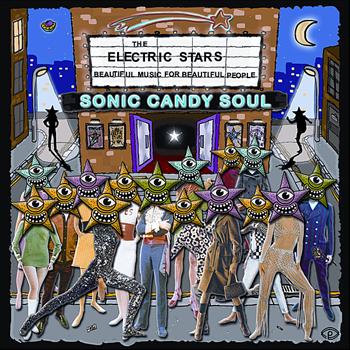 AB Says: "The Electric Stars are the latest Manchester band to come to prominence. Their debut album, 'Sonic Candy Soul', was released last year on Detour Records and is a fine showcase of their wide-ranging styles and influences. They deliver a mix of rock 'n' roll, glam, psychedelia and, at points, even gospel. It features the exceptional singles 'Between the Streets and the Stars' and 'I Want You',
as well as a fine selection of album tracks. The LP itself starts with lead singer, Jason Edge, preaching the line 'beautiful music for beautiful people' - foreshadowing what ensues in the next fifty minutes. Then, with a kick, the album takes off with '136' which hints at early New York Dolls and lyrical references The Stones and Elvis - obvious influences here as well. This is followed by the aforementioned 'Between the Streets and the Stars', adding more texture and a groovy drum beat, and then the much slower 'Alison Williams', which is where the evident psychedelic influences come in. Meanwhile, 'I Want You' is reminiscent of Iggy and the Stooges and of the early garage bands and 'Blind' is exceptional with 'You Can't Always Get What You Want' gospel choir singing the song out in a grand finale. The album continues to grow with more rock 'n' rollers in the form of 'Who's Gonna Satisfy Me' and 'Not Man Enough' and some slower numbers such as 'Stoned Again', 'Old Fashion Girl' and 'Bedtime Stories'. The album concludes with 'Isolation', which builds and builds with exquisite guitar playing and driving drums until the band finally find themselves where they started - 'beautiful music for beautiful people'. Overall, outstanding stuff, one of the finest debut albums for quite some time!"
'Between The Streets And The Stars'
Hope you enjoyed this feature on The Electric Stars! Check out our previous feature on Likely Lads!